Commercial Wood Pellets Systems up top 300kW
Ecotec has many installed commercial sized systems in operation. These are providing the overall heating requirements for schools, hotels and alike in Sweden. These burners-a larger version of their smaller cousins(now widely installed in Ireland) operate with efficiencies up to 94%. They are the workhorses that can be depended on for either base load heating or as stand alone boiler systems that allow for substantial fuel savings. They offer a very good return on investment.
EcoTec Air
The Ecotec Air is a unique. patented hot-air boiler which is pellet fuelled. It is ideal for farms or for heating large buildings such as engineering workshops, large storage buildings and meeting halls etc. The boiler can quickly heat large premises up to 4000m3 in size.
Download EcoTec Air Technical Details (pdf)
300kW Systems
The Bioline 300kWBurner and the Osby P500 boiler are tested to the EN 303-5 Certification and qualify for the Re Heat Grant from SEI.
The boiler will best be suited for a kW demand in the general range of 175kW to 250kW. Two units can be linked in series and also with buffer tanks to allow for commercial solar input.
As with systems over the 100kW size, these boilers require additional safety and monitoring equipment. We work with your mechanical engineers to allow for a complete or partial refit or with new building.
Pellet Storage.
Site parameters will dictate the area(s) available for storage and delivery access. We have multiple size options available-either in fixed outside silo or flexible sack silos up to 25 tons.
Ash Removal
The boiler will need empting of ash on a scheduled basis. The least expensive option is to have this done by manually by industrial vacuum system which we will supply. A fully automatic system is also available.
As with our smaller systems, the burner is self cleaning between scheduled maintenance periods.
The boiler can be tied in to any building management control system.

Download Burner Technical Details- Bioline 250kW (pdf)
Download Boiler Technical Details- Osby P500 (pdf)
Here are some examples of EcoTec Burners installed with Mafa silos: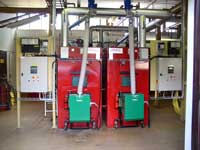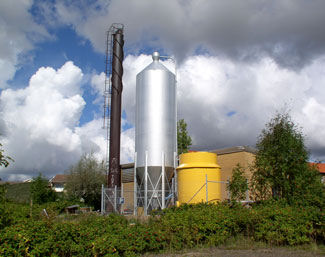 EcoTec 2 x 300kW with a 66.9m3 Silo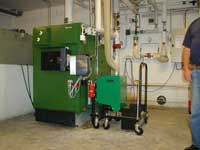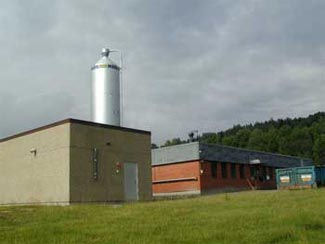 EcoTec 300kW with a 37.8m3 silo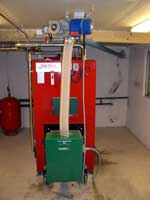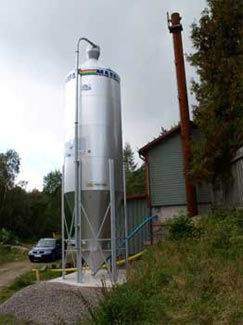 EcoTec 100kW with a 27.5m3 Silo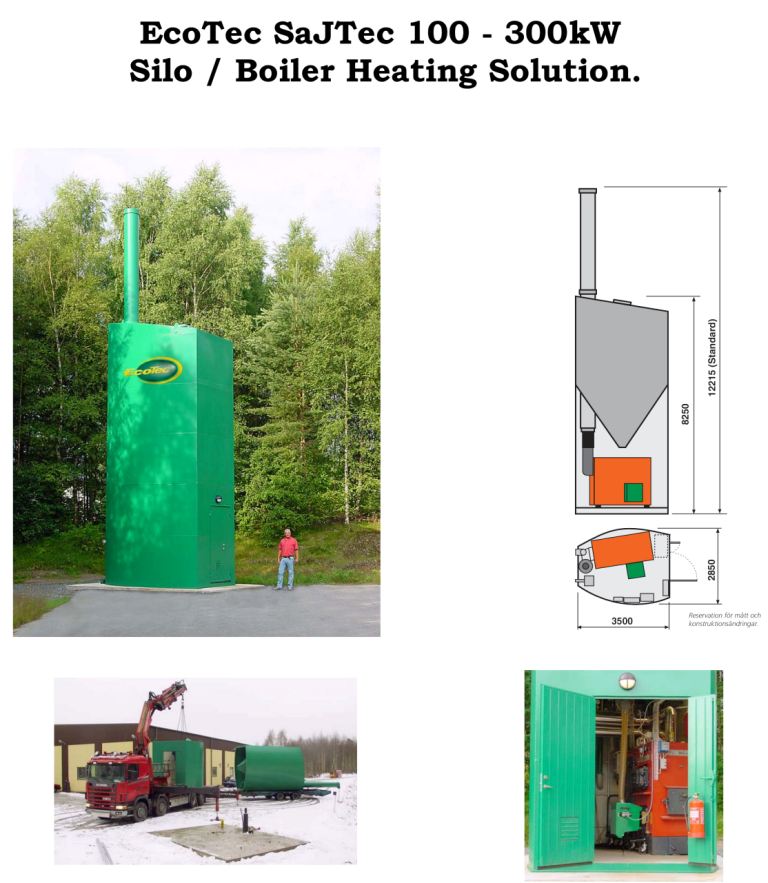 ---